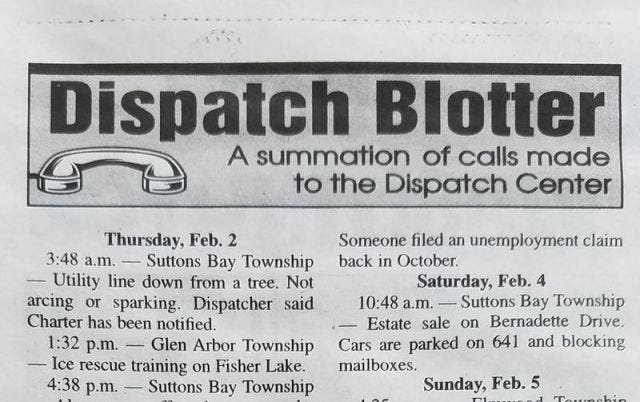 Throbbing Cabin is in Leelanau County whose local weekly newspaper, the Leelanau Enterprise, publishes the dispatch calls to 911. Additional reporting by The Ticker.

These are the highlights.

These are all real calls.

(Ed. All spelling errors and grammatical mistakes left in place.)

Tuesday, Nov. 23
8:24 a.m. — Leelanau Township — Area littered with broken glass, mattress, bottles, Chevy Cobalt with four adults sleeping. Fire going. Glass in fire. No plate on van. Looked rough.

1:15 p.m. — Elmwood Township — Individual came into clinic and was disappointed he couldn't get COVID vaccination.

Wednesday, Nov. 24
12:37 a.m. — Suttons Bay Township — Caller is having some issues tonight. At the house with relatives. Trying to see if individual will go to the hospital.

Thursday, Nov. 25
5:36 p.m. — Cleveland Township — Caller advises dogs came from her neighbors growling and snarling. Homeowner telling her she has the right to let them run loose. Animal control will follow up.

Friday, Nov. 26
12:34 p.m. — Suttons Bay Township — Person tried to make fraudulent charges on caller's credit card. Tried to charge at Apple, Lenovo, and Lowes. Caller contacted vendors who gave information on who was trying to use the card. None of the charges have gone through. But subject is still trying to use caller's card.

4:12 p.m. — Cleveland Township — Hunters were allowed to hunt on caller's property. Man trespassed on land. Interrupted hunt. (Reports and investigation from the Michigan State Police.)

5:28 p.m. — Leelanau Township — Caller is laying fiber optic in the area. Man living at this address was upset about the location of the line. He dug it up and cut it causing interruption in progress.

Saturday, Nov. 27
12:11 a.m. — Centerville Township — Silver hatchback on the side of the road for multiple hours. Vehicle is not normally on the road. Caller would like it checked out as she thinks it is suspicious. (Per law enforcement. It looks like it couldn't make it up the driveway.)

1:31 p.m. — Leland Township — Notification that device is tracking caller. Unidentified tracking device since last night.

8:04 p.m. — Bingham Township — Man in a black jacket walking southbound in the northbound lane. (Man walked down to Shady Lane Market and then back home. He is close to home now and needs no help.)

11:28 p.m. — Solon Township — Lady pounding on caller's door saying she was thrown from car. Crying. (Law enforcement transporting female to market. Caller's fiance will meet there. Family trouble between caller and her sister. Non-criminal.)

Sunday, Nov. 28
3:16 p.m. — Bingham Township — Foster son is threatening family. Has scissors. (Subject detained. Law enforcement spoke to Manistee County in an attempt to find Department of Health and Human Services worker. With no response.)

Monday, Nov. 29
7:53 a.m. — Solon Township — Two cars hit same deer. One needs a wrecker.

9:39 a.m. — Bingham Township — Someone has been staying in deceased father's condo since his passing. Caller does not know who it might be.

3:42 p.m. — Cleveland Township — Caller is selling things on Craigslist. Value $30. Was contacted by someone who offered to send check for shipping. Received one for $2,300. Caller would like to speak with law enforcement because it is suspicious.

10:25 p.m. — Suttons Bay Township — Caller wants to speak to an officer about her brother not letting her speak to her mother in Gladwin. Referred to Adult Protective Services. (Per law enforcement, not a criminal matter.)

Thursday, Dec. 2
3:20 p.m. — Elmwood Township — Caller's friend posted on Facebook that "life is about to get interesting." He responded that he was going to stand his ground. Caller thought it was suspicious. Caller doesn't know the guy very well. Just has a lot of mutual friends. (Law enforcement spoke with subject. Stated the status was about the Rittenhouse trial and just didn't want people rioting in the streets locally.

9:03 p.m. — Suttons Bay Township — Caller is reporting a stolen backpack. Caller has been at the restaurant for three hours. Caller set the bag on the table. Came back and it was gone. Caller going to go look in his apartment. He is so drunk, he doesn't know much of his surroundings at this point.

Friday, Dec. 3
9:25 a.m. — Leland Township — Subject won't answer the phone or door for his employer. Caller would like a welfare check.
1:32 p.m. — Solon Township — Someone stole a radar detector. Believed to have been taken Nov. 28.

4:47 p.m. — Bingham Township — Female Black Lab at caller's house. Ongoing issue with dog coming to her house. Is not friendly. No collar. Caller was offended that no one would come pick it up and would not give her name.

7:29 p.m. — Leelanau Township — Violation of the controlled substance law.

Saturday, Dec. 4
7:55 p.m. — Glen Arbor Township — SAAB 900S, black, has been parked in front of restaurant for two days. Unlocked. A customer opened it up and it's a mess. Caller is worried it may be stolen.

8:20 p.m. — Suttons Bay Township — Man and woman yelling and fighting in the yacht club garage. Could not make out what they were saying. It was about an hour ago. Caller doesn't hear anymore.

Sunday, Dec. 5
12:02 p.m. — Solon Township — Black truck intentionally tried to run caller off the road. Northbound between White and Kasson roads. Caller going 40 mph. Slowed down after passing and was tailgating on caller's bumper. Was inches from caller's car. No plate visible. Big, black 4X4. No topper. Possible male driver with beard.

5:16 p.m. — Leland Township — Friend's dad is driving the family. Drove out of winery and is heading to Mount Pleasant. Caller's friend said all three of them are very intoxicated. Snapped at caller in chatroom. Driving a Ford Flex of unknown color.

8:37 p.m. — Suttons Bay Township — Caller wanted to file a policy report about the road and the sidewalks not being plowed in downtown Suttons Bay so she was walking on the road and was almost hit.

Monday, Dec. 6
7:51 a.m. — Elmwood Township — Caller's husband is on Crain Hill. Two cars in the ditch. One hit a mailbox.

11:06 a.m. — Bingham Township — Caller has hook stuck in hand.

12:59 p.m. — Bingham Township — Neighbor has a habit of plowing snow across the drive into caller's yard causing damage. Would like him notified that it's against ordinance and would like it to stop. (Civil issue).

3:46 p.m. — Bingham Township — Son is at address detoxing. Very paranoid. Says he wants to go to hospital but is too scared of anyone taking him. Will be very upset.


Get vaccinated and mask up! There is a pandemic going on.
lisa x


You've just finished reading A Most Unreliable Narrator, the slice of life newsletter
from a Gen-Xer about town, Lisa Rabey. You can find me on Twitter, Instagram,
or Facebook if you're so inclined. If you dig this, pass me on to a friend!
Comments? Questions? Want to say "Hi!"? Just hit reply and send me a note!